About the Dangar Marine Outboard Repair Guide
The Dangar Marine Outboard Repair Guide is a resource to help the DIY boat owner diagnose, repair, and maintain their outboard motor. We offer an interactive diagnostic tool and flow chart for you to follow, with links to tutorial videos, technical reference articles and diagrams, and in collaboration with MarineEngine.com, the ability to find and purchase the parts and specialty tools you need to get the job done and get back out on the water as quickly and cheaply as possible.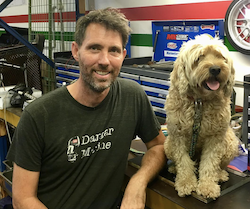 The Dangar Marine YouTube channel offers hundreds of how-to videos relating to boating and both outboard and inboard marine engine maintenance and repair. For many common issues, videos have been included alongside the diagnostic steps on this site to help you better understand what needs fixing and how to go about it. Videos are presented by DangarStu, a mechanic and commercial boat skipper from Sydney, Australia, who is also passionate about underwater exploration and salvage using his recently restored steel fishing trawler Renko.
Dangar Marine merchanidise can be purchased from the Dangar Marine Merch Store.

MarineEngine.com has been helping boat owners and mechanics to find the right parts, tools, accessories, and repair manuals and guides since 1999. MarineEngine.com sells everything needed to cover maintenance, tune-up, and overhaul of most common inboard and outboard engines. The Dangar Marine Outboard Repair Guide can help you figure out what's wrong, then head over to MarineEngine.com's parts and catalog start page or take a look at their vast selection of boat motor repair manuals to get what you need.
They sell a wide range of discount boat parts, from electrical components, to fuel tanks and pumps, covers and seats, trailering supplies and more. They also have the cleaning, safety and sanitation supplies you need to maintain your boat (see the boat accessories page). MarineEngine.com's discussion forum can be an excellent place to ask technical questions and get advice from other experienced boaters and mechanics. Be sure to search the forum and to read the posting guidelines before starting a new post.


Application release 1 / build 2
JACL v4.5.1